My Newest Speculative Fiction Novel Release "This Could Be It"
Unraveling Mysteries, Defying Boundaries: Where Technology and Spirituality Collide, 'This Could Be It' Begins.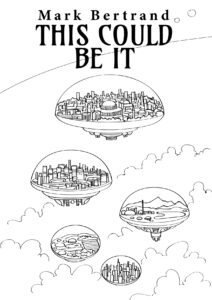 The cover for the new novel is in development. The sketch in black and white is shown here.
I'm ecstatic to introduce my latest creation, "This Could Be It," a voyage into the extraordinary realm of Planet 44. This imaginative saga unfolds amidst a celestial marvel—a stack of five interconnected floating cities, suspended within the ethereal embrace of Planet 44's dense atmosphere.
Picture this: grandiose structures intertwined with vibrant, swirling clouds, each city enclosed within protective domes. Here, advanced technology dances hand in hand with magic, crafting a utopia beyond imagination.
Echelon Primus, the towering pinnacle city, embodies an idyllic fusion of nature and intelligent interfaces. Nexus Thalassa hums with industrial prowess, nurturing the lifeblood of all cities. Helianthus Apex and Verdant Arcadia boast lush, paradisiacal landscapes, while Obisidian Abyss, nestled in the depths, transforms waste amidst celestial light spectacles.
As you traverse these cities, Planet 44's inhabitants beckon you into a world brimming with awe, where discovery, truth's elusive pursuit, and the very fabric of reality intersect. What enigmatic secrets shroud the poisonous mists? What forces stir the rifts between worlds? Can our valiant protagonist master the Mysteries before time ebbs away?
Embark on an odyssey through the pages of "This Could Be It," slated for launch on 10 January 2024, and unravel the wonders hidden within these majestic floating havens.
I'm eager to hear your thoughts on this mesmerizing series and invite you to join me in uncovering more secrets as I unveil the intricate tapestry of Planet 44. Welcome aboard, fellow explorers, and prepare to lose yourself in the mesmerizing beauty of the cloud cities that I've had the pleasure of envisioning.
Award Winning Science Fiction Novels
Reviews of my speculative fiction and science fiction novels!
"For fans of dystopian literature and space opera with a philosophical edge, Starzel is a must-read. It leaves a lasting impression, challenging readers to ponder the complexities of the human experience long after the final page is turned."
American Writers Awards — Speculative Fiction Featured Novels
Reviews of my speculative fiction and science fiction novels!
"… extremely clever, and much of the book reads like source code itself; this is, in the main, sci-fi in its purest, geekiest form (and I mean that affectionately, with no offense) Bertrand is a smart, hard-working and intellectual writer."
Matt McAvoy, MJV Literary Author Services
Reviews of my speculative fiction and science fiction novels!
"Despite being humanoid but not human, Eulǝr is easy to relate to and someone I ultimately found myself rooting for. The descriptions of his experiences are immersive and extremely well depicted …
"Overall, this is a thought-provoking and thoughtful novel that will likely delight lovers of intelligent visionary fiction."
Jamie Michele, Readers Choice
Get My Free Speculative Fiction Novel From The Transporter Room
---

---
Speculative fiction and science fiction novels